On this page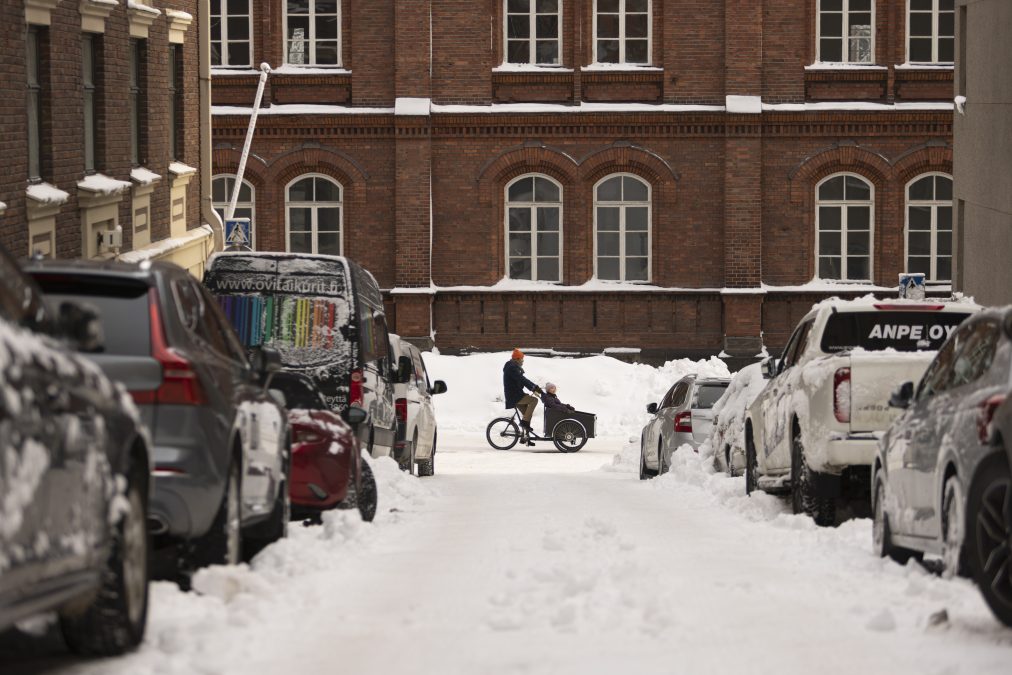 Driving a car in Finland's capital area
Parking in Helsinki is subject to hourly fees in neighbourhoods where you are not a resident. Helsinki is investing in improvements to its public transport, cycling and pedestrian routes to encourage residents to forgo private vehicles.
Parking for visitors
The inner city is divided into two parking zones, zone 1 and zone 2. Parking fees in these zones range from EUR 2 to 4 per hour. Private parking lots and garages charge EUR 5 per hour on average. As a rule, these fees are applicable from 9-21 on weekdays and can be paid via mobile phone or automated ticket machines. There are very few areas with free short-term and long-term parking in downtown Helsinki.
Payment by mobile phone is available from several service providers, each of which require registration. Most of the ticket machines in the city take credit or debit cards, although a few still accept coins.
Night, weekend, and holiday fees vary by area. The Finnish Transport and Communications Agency Traficom grants special parking permits for people with disabilities. Low-emission vehicle owners are also entitled to a discount from the city.
Violations will be fined
Parking in Helsinki is only permitted in designated parking areas. Violations are swiftly ticketed. Illegal parking can yield fines of up to EUR 80, which increase automatically if not paid within 30 days of the offense. You can find the latest instructions for paying or contesting a parking fine on the City of Helsinki website.
When parking, leave a distance of five metres between your car and the pedestrian crossing. Parked vehicles that interfere with the flow of traffic or block maintenance work may be towed by the city at the owner's expense.
Are you commuting into Helsinki from farther away? Helsinki has several Park & Ride facilities, where people can park their vehicle and continue their journey on public transport.
Parking for residents
Individuals living in the city centre can apply for resident parking permits. These permits allow residents to park in a designated zone near their registered address. Two vehicles may be registered on the same permit, but only one may be parked in the designated parking zone at a time.
Resident parking permits in Helsinki cost either EUR 15 or 30 per month, depending on the district.
Likewise, businesses can obtain a business parking permit that grants them the right to park up to five company vehicles in a designated zone. Another option is a business parking permit that is good across all of the city's parking zones. City authorities issue all parking permits for no more than one year at a time.
There are many parking halls and facilities in the city, but they are quite expensive. Some offer discounts during non-working hours for resident parking permit holders.
Snow removal and speed limits
The City of Helsinki is responsible for most street maintenance in the city, in cooperation with private contractors and property owners. Street maintenance includes all activities that keep Helsinki's streets clean, clear, and safe, particularly during the winter months.
Depending on the weather conditions, the city may post temporary signs along streets that are scheduled for snow ploughing in the winter or street washing in the spring. During the period marked on the sign, all vehicle owners in the area must move their vehicles elsewhere. If they fail to do so, the city will tow them.
City authorities have lowered speed limits in Helsinki since the 1970s. The limit in the city centre is now 30-40 kilometres per hour everywhere but on the busiest arteries. Although the amount of traffic has nearly tripled in the last 50 years, the number of annual traffic fatalities has dropped from about 40 to 4 in Helsinki, thanks in large part to reduced speed limits.
Helsinki Police monitor traffic offenses closely and issue a traffic penalty fee or fines proportionate to your income for even minor traffic infractions. The police have also installed speed cameras at many popular intersections and major thoroughfares.
Tips for driving in Helsinki
Individuals holding driving licenses from an EU or EEA country may drive in Finland for as long as their license is valid. Citizens of other countries must exchange their driving licenses within one or two years of their move to Finland. To do this, you must book an appointment in advance at a Ajovarma office. You must be over the age of 18 to drive in Finland. Getting a driver's license is quite expensive.
The Ajokortti-info website from the Finnish Transport and Communications Agency Traficom provides a list of things to consider as a foreigner on Finnish roads. For example, if you own a vehicle in Finland, you have to pay a vehicle tax and the car must be inspected annually. Owners must also insure and register their vehicles before they can drive them. You must keep the registration certificate in the vehicle at all times while driving.
There are also rules about using winter tyres when the weather requires it.
Have you learned Finland's traffic regulations? Before you drive in Helsinki, it is important that you take the time to learn Finnish traffic regulations and traffic signs. It may end up saving a life, and that life might be yours!
Important considerations when driving
Follow the speed limits: 40 km per hour means 40 km per hour in Finland
Lights are required year-round
No turns allowed on red
Turning signals are legally mandated
There are no congestion charges or tolls
Buses and trams have the right of way at speed limits under 60 km/h. Even when signalling at a stop!
Pedestrians have the right of way when crossing the street in places where there are no traffic lights
It is the driver's responsibility to predict if a pedestrian will cross the street and stop appropriately
If another car is stopped close to a crosswalk, you must always stop too
Cars coming from your right have the right of way at intersections without traffic lights